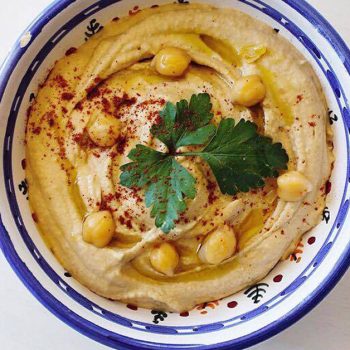 Courtesy of Nikki Manduca
Ingredients:
400g Good Earth Chickpeas (cooked)
1 Tbsp Sunita Light Tahini
2 Garlic Cloves, chopped
2 slices of 1 onion, chopped
2 Tbsp Pantaleo Olive Oil
1 Tbsp Sunita Lemon Juice
Pinch of Good Earth Cayenne Pepper or Good Earth Paprika
Pinch of Good Earth Himalayan Salt
Good Earth Ground Pepper, to taste
20ml of water, depending on blender
Prep time:
5 mins
Total time:
7 mins
Serves:
4
Instructions
One of the healthier options for dips is hummus, a Middle Eastern dip made with chickpeas, olive oil, garlic, lemon juice and tahini, which is a sesame seed paste. It provides you with protein and a number of essential vitamin and minerals, and while it can be high in fat, it is mostly heart-healthy unsaturated fat.
To Make:
Simply put everything into a blender and blitz until creamy-smooth or until the desired consistency.