Gluten Free Maple Waffles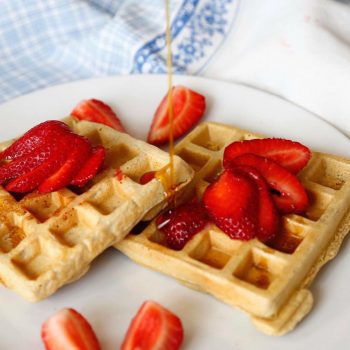 Courtesy of Nikki Manduca
Ingredients:
180g Good Earth Oat Flakes
2 Whole Eggs
1.5 Tbsp Merito Organic Coconut Oil
1 Tbsp Horizon Organic Maple Syrup
2 tsp Doves Farm Baking Powder
1 Tbsp Vanilla Extract
Pinch of Good Earth Himalayan Salt
170ml Alpro Oat Milk

Optional Toppings:
Fresh Strawberries
Frozen Berries
Monki Cashew/Almond Butter
Horizon Organic Maple Syrup
Greek Yoghurt
Toplou Organic Greek Thyme Honey
Prep time:
5 mins
Total time:
15 mins
Serves:
4 waffles
Instructions
A gluten free, dairy free, guilt free version – easy to make and delicious to taste! Filled with only natural sugars, this recipe will satisfy your cravings and keep you full for longer.
To Make:
Start by heating up your waffle machine. Whilst it heats up, add the oats to a blender and process till you get a flour-like consistency. Then throw in the the rest of the ingredients and blend again until smooth. Let it set for a few minutes so that the the baking powder will allow it to rise. Once the waffle maker is heated up, pour the waffle mix into the waffle machine and shut it closed. You might need to add some oil and grease the machine if not using a nonstick waffle maker. Cook for 2-3 minutes until golden brown and cooked through. Once it is cooked, let it set for a minute or so, so that the mixture can dry up from any moisture before adding it to a plate.