Gluten Free Hobz biz-Zejt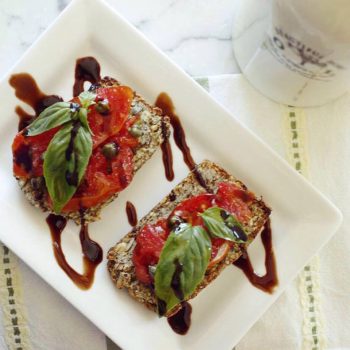 Courtesy of Nikki Manduca
Ingredients:
1 cup Good Earth Ground Almonds
1 cup Good Earth Buckwheat/Brown Rice flour
1/2 cup Good Earth Pumpkin Seeds
1/4 Good Earth Sunflower Seeds
1/4 Good Earth Sesame Seeds
2 Tbsp Good Earth Chia Seeds
3 Tbsp Psyllium Husk (essential)
2 Tbsp Good Earth Mixed Herbs
600ml water
Good Earth Himalayan Salt and Good Earth Ground Black Pepper

Optional Toppings:
Fresh Tomatoes
Pantaleo Olive Oil
Il Torrione Organic Balsamic Vinegar
Capers
Olives
Basil
Onions, chopped
Salt & Pepper

Prep time:
10 mins
Total time:
1 hour 30 mins
Serves:
5
Instructions
Gluten Free Superfood Seed Bread Bun. It's a great bread alternative, high in fibre, nutrient dense and holds together really well.
To Make:
Start by pre-heating the oven to 180 degrees. In a food processor, add the almonds and pumpkins seeds and blitz until ground. Once done, add to a large bowl with the rest of the ingredients, mix well and let it sit. In the meantime, line a tray with baking paper. Once the "dough" is completely absorbed by all of the water, mould into burger buns and add to the baking tray. Pop into the oven and bake for about 30 mins or until lightly brown. (You might need to flip them so that they cook evenly on each side). Once this is complete, let cool and enjoy. PS: They taste even better a bit toasted!
For a traditional hobz biz-zejt rub the bread with tomatoes, drizzle with olive oil and add a mix of olives, capers, herbs, gbejna, tuna, etc.