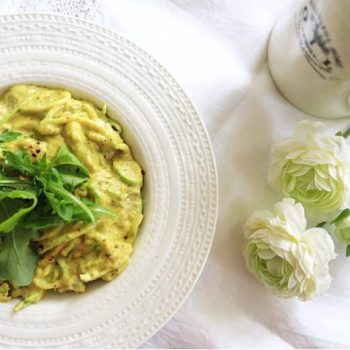 Courtesy of Nikki Manduca
Ingredients:
For the pasta:
1 Fresh Courgette

For the Vegan Cream Sauce:
Half an onion (roughly chopped)
2 garlic cloves
1 cup Good Earth Cashew Nuts (soaked)
1 Tbsp Marigold Nutritional Yeast
1 tsp Good Earth Ground Cumin/Ginger and Tumeric
Half a tsp of Tracklements Dijon Mustard (optional)
Half a tsp Clearspring Organic Hatcho Miso Paste or 1 tsp Clearspring Tamari
1/4 Good Earth Crushed Chilli
200ml Alpro Almond Milk
Good Earth Himalayan Salt and Good Earth Ground Pepper to taste
Prep time:
10 mins
Total time:
20 mins
Serves:
1
Instructions
Courgetti are a delicious alternative to carbs such as pasta or noodles – particularly good during the summer months as it's much lighter! Quick, easy, vegan, 5 minute, nutrient-dense meal.
To Make:
Start by spiralising your courgette with a spiraliser or cut thinly with a knife. Heat up a pan a with some coconut oil and start frying the onion and garlic until light brown. Whilst they're cooking, put all the cream sauce ingredients into a blender or food processor and blend until smooth. Then add the courgette to the pan and cook on low heat. Can even be eaten raw. Dont leave them cook to long. Lastly add the cream sauce and mix together until its all heated up.