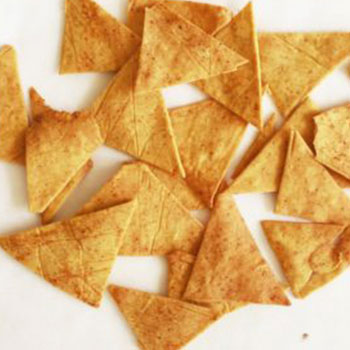 Courtesy of Nikki Manduca
Ingredients:
2 cups Good Earth Indian Gram Flour
1 ½ tsp Fine Sea Salt
1 tsp Good Earth Paprika
1/2 Tbsp Good Earth Garlic Powder
1 tsp Good Earth Cracked Black Pepper
1 tsp Doves Farm Baking Powder
¼ cup Emile Noel Organic Coconut Oil, melted
4-6 Tbsp Warm Water
Prep time:
15 mins
Total time:
20 mins
Serves:
4
Instructions
Preheat the oven to 200 degrees. Sift the chickpea flour, salt, pepper, paprika, garlic powder and baking powder into a large mixing bowl. Add the coconut oil and mix with your hands until the dough is crumbly. Add ¼ cup warm water and stir until the dough comes together. If the dough is not sticking together add more water, a teaspoon at a time, until it does. Do not overwork the dough. Place the ball of dough onto a sheet of baking paper and flatten into a rough disc. Place another sheet of baking paper on top of the dough and using a rolling pin, roll out as thin as possible. The thinner the dough, the lighter and crispier your chips will be. Remove the top layer of baking paper and score the dough into triangles. Slide the baking paper and dough onto a baking sheet and place in the oven. Bake for 10-13 minutes until the chips are golden around the edges. Enjoy chips warm on a nacho plate, or once completely cool, transfer them to an airtight container where they will keep for up to two weeks.