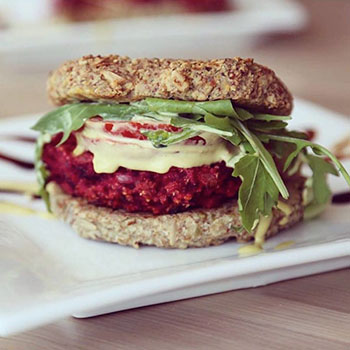 Courtesy of Nikki Manduca
Ingredients:
For the Burger:
2 cups Beetroot, peeled and cut into cubes
1 cup Good Earth Quinoa, cooked
1 tbsp Pantaleo Olive Oil
1 egg
1 onion, finely diced
2 garlic cloves, crushed
3-4 tbsp Good Earth Ground Almonds
1 tbsp Good Earth Chia Seeds
1 tsp Emile Noel Organic Coconut Oil, melted
2 tsp Sunita Lemon Juice
¼ tsp Good Earth Chilli Flakes
1 tsp Good Earth Himalayan Salt
1 bunch chopped parsley

For the Bread:
1 cup Good Earth Almonds
1 cup Good Earth Buckwheat/Brown Rice Flour
1/2 cup Good Earth Pumpkin Seeds
1/4 cup Good Earth Sunflower Seeds
1/4 cup Good Earth Sesame Seeds
2 tbsp Good Earth Chia Seeds
3 tbsp Psyllium Husk (essential)
2 tbsp Good Earth Mixed Herbs
600ml water
Salt and pepper

For the Cheese:
2 Garlic Cloves, crushed
1 cup Good Earth Cashew Nuts (soaked)
1 tbsp Marigold Nutritional Yeast
1 tsp Good Earth Cumin/Ginger and Tumeric
1/2 tsp Tracklements Dijon Mustard (optional)
1/2 tsp Clearspring Organic Brown Rice Miso or 1 tsp Clearspring Tamari
1/4 cup Good Earth Chilli Flakes
200ml Alpro Almond Milk
Salt and pepper to taste
Prep time:
30 mins
Total time:
1.5 hours
Serves:
6 burgers
Instructions
Add the chopped and peeled beetroot to a food processor and blitz until fine. Put the rest of the ingredients into a large bowl, add the beetroot and mix together until you get a sticky like consistency that will hold them together. On a baking tray, place a baking sheet and create patties with the beetroot mix and place onto the tray. Put into a grill oven and cook for about 7 mins on each side or until lightly brown.
To make the bread, start by pre-heating the oven to 180 degrees. In a food processor, add the almonds and pumpkins seeds and blitz until ground. Once done, add to a large bowl with the rest of the ingredients, mix well and let it sit. In the meantime, line a tray with baking paper. Once the "dough" is completely absorbed by all of the water, mould into burger buns and add to the baking tray. Pop into the oven and bake for about 30 mins or until lightly brown. (You might need to flip them so that they cook evenly on each side). Once this is complete, let cool and enjoy. P.S.: They taste even better slightly toasted!
For the cheese, simply add all of the ingredients to a high speed blender and blitz until thick and smooth.