Mediterranean Summer Grains Salad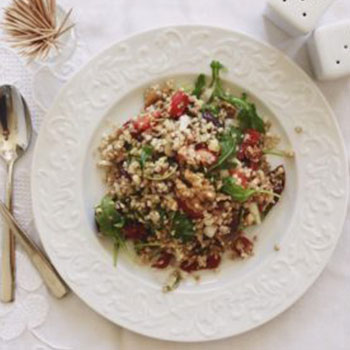 Courtesy of Nikki Manduca
Ingredients:
1/2 cup Good Earth Quinoa
1/2 cup Good Earth Raw Buckwheat
1 Onion (finely chopped)
3 Garlic cloves (finely chopped)
1 cup Sundried tomatoes (sliced)
4 mushrooms (chopped + cooked)
2 Fresh Tomatoes (chopped)
1/2 cup Castellino Black Olives (sliced)
1/4 Good Earth Sunflower Seeds
cup Good Earth Walnuts crushed
1 bunch rocket
Prep time:
15 mins
Total time:
30 mins
Serves:
3
Instructions
Bring a pot of water to the boil and cook the quinoa and buckwheat for about 20 mins. Drain and set aside to cool. In the meantime, add 1 teaspoon of coconut oil to a pan and cook the mushrooms until brown. Add them to the mix along with the rest of the ingredients, mix well and enjoy with a bit of olive oil, salt and pepper.