Organic
Simply stated, organic produce and other ingredients are grown without the use of pesticides, synthetic fertilizers, sewage sludge, genetically modified organisms, or ionizing radiation. When you choose organic food and other products, you're helping more than yourself. You're supporting farmers and producers who work hard to meet the standards because they believe in good health, quality and sustainability.
---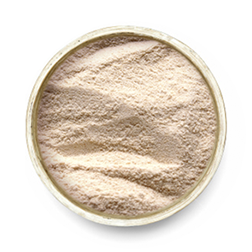 Organic Millet Flour
Millet flour is perfect for both sweet and savoury baking. It lends a delicate cake-like crumb to baked goods. Since it does not have gluten replace up to 25% of the flour in your recipe with millet flour for added nutrition.
---
Milled millet grains* *=from organic agriculture
---
Energy1540kJ / 364kcal
Total fat4g

of which saturates

1g
Carbohydrate69g

of which sugars

2g
Protein11g
Salt0.007g
---
Packed in a factory that handles gluten, peanuts, soya beans, nuts, celery, mustard and sesame seeds
---
---
---
---
---
---
---
---
---
---