Flours & Flakes
The range of flours available are mostly from the cereal grain but we also stock root vegetable flours and flours obtained from finely grinding pulses. Like all whole grains, their flours are staples and used in all types of cuisine the world over. Used since prehistoric times, flours today are highly valued for their convenience, versatility and nutritional value.

Cereal flakes are a staple in our diet all over the world used in both sweet and savoury dishes perfect for any time of the day. Flakes are obtained by flattening the whole grain between two rollers making them easier to digest and to enjoy raw, to become one of the world's most popular convenience foods.
---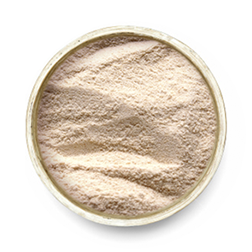 Millet Flour
Millet flour is perfect for both sweet and savoury baking. It lends a delicate cake-like crumb to baked goods. Since it does not have gluten replace up to 25% of the flour in your recipe with millet flour for added nutrition.
---
Energy1540kJ / 364kcal
Total fat4g

of which saturates

1g
Carbohydrate69g

of which sugars

2g
Protein11g
Salt0.007g
---
Packed in a factory that handles gluten, peanuts, soya beans, nuts, celery, mustard and sesame seeds
---
---
---
---
---
---
---