Flours & Flakes
The range of flours available are mostly from the cereal grain but we also stock root vegetable flours and flours obtained from finely grinding pulses. Like all whole grains, their flours are staples and used in all types of cuisine the world over. Used since prehistoric times, flours today are highly valued for their convenience, versatility and nutritional value.

Cereal flakes are a staple in our diet all over the world used in both sweet and savoury dishes perfect for any time of the day. Flakes are obtained by flattening the whole grain between two rollers making them easier to digest and to enjoy raw, to become one of the world's most popular convenience foods.
---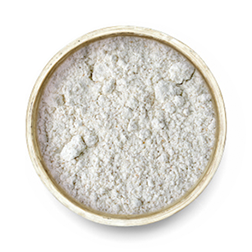 Potato Flour
Also known as potato starch. This flour is dairy free, gluten free, wheat free and soya free. Commonly used as an everyday flour or as a thickener in sauces and stews. It also adds lightness to baking.
---
Energy1580kJ / 380kcal
Total fat0.1g

of which saturates

0g
Carbohydrate98g

of which sugars

4g
Protein0.1g
Salt0g
---
Packed in a factory that handles gluten, peanuts, soya beans, nuts, celery, mustard and sesame seeds
---
Brown Rice Flour
Brown rice flour can be used to thicken sauces and to coat fish or chicken. It can also be used to make breads and cakes.
---
Energy1518kJ / 357kcal
Total fat2.8g

of which saturates

0.7g
Carbohydrate81.3g

of which sugars

1.3g
Protein6.7g
Salt0g
---
Packed in a factory that handles gluten, peanuts, soya beans, nuts, celery, mustard and sesame seeds
---