Orgran
In today's society, consumers are becoming increasingly aware of consuming a diet that is healthy, nutritious and individual to their needs. Orgran products have been developed with your wellbeing in mind and are based on only natural ingredients for people who demand a healthier lifestyle.
---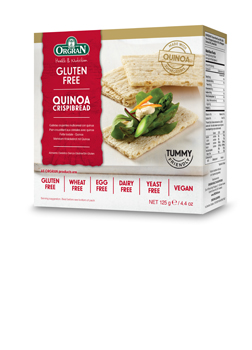 Orgran Quinoa Crispibread 125g
Orgran Quinoa Crispibread is a quality product produced from a nutritious combination of wholesome cereals and the revered superfood Quinoa. It is the ideal alternative to bread or heavier type crackers and has less than 0.4g fat per serving.
---
Brown Rice Flour (40%), Rice Flour, Wholegrain Sorghum (15%), Wholegrain Quinoa (10%), Iodised Salt
---
Allergens can be found in the ingredients list.
---
---
---
---
---
---
---
---
---
---