Kallo
Kallo is a contemporary food brand that specialises in organic and natural food. It is a brand for people who take an active role concerning their food and health. At Kallo we strongly believe that life should be simple, natural, and pleasurable. Have your cake and eat it..
---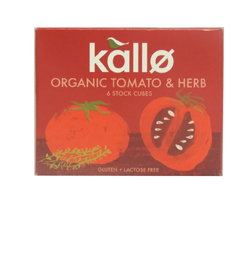 Kallo Stock Cubes Organic Tomato & Herb 66g
Kallo Organic Tomato and Herb stock cubes are made from 100% natural ingredients, bringing a delicious flavour to your home made meals. Kallo organic stock cubes are the perfect way to enhance the natural essences of your home recipes.
---
Sea salt, palm oil*, tomato powder* (18%), maize starch*, yeast extract, herbs* (1%) (oregano*, thyme*, lovage leaves*, parsley*, rosemary*), beetroot*, onions* caramelised sugar*, garlic* pepper*. *Certified organic
---
May contain traces of egg, mustard, soya and celery.
---