Health Plus
Health Plus supplies a wide range of excellent value, British-made, high quality nutritional supplements and health related products. As well as the traditional pots of single nutrient products, there also have multi-formulas aimed at providing the necessary nutrients for specific nutritional needs of your lifestyle and health profile.
---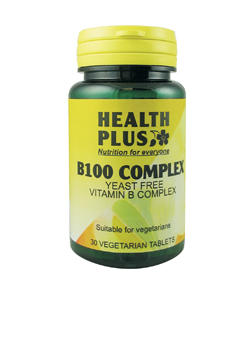 Health Plus Vitamin B Complex 30 tabs
B Complex vitamins are essential for maintaining proper health of many body systems. Essential for energy production, proper digestion, healthy skin and hair, the production of red blood cells and a healthy nervous system. B vitamins are water soluble, so are not stored in the body. Yeast free. Ideal for people that require a higher daily intake.
---
Calcium Phosphate, Microcrystalline Cellulose, Vitamin B6 (Pyridoxine Hydrichloride) 100mg, Thiamin - Vitamin B1 (Hydrochloride) 100mg, Pantothenic Acid - Vitamin B5 (Calcium dPantothenate) 100mg, Niacin - Vitamin B3 (Nicotinamide) 100mgNE, Riboflavin - Vitamin B2 100mg, Choline diHydrogen Citrate 100mg, Inositol 100mg, Acacia, Para amino Benzoic Acid 30mg, Protein Coating, Stearic Acid, Watercress 5mg, Parsley  5mg, Magnesium Stearate, Folic Acid (Folacin) 100 µg, Vitamin B12 100 µg, Biotin 100µg.
---
---
---
---
---
---
---