Health Plus
Health Plus supplies a wide range of excellent value, British-made, high quality nutritional supplements and health related products. As well as the traditional pots of single nutrient products, there also have multi-formulas aimed at providing the necessary nutrients for specific nutritional needs of your lifestyle and health profile.
---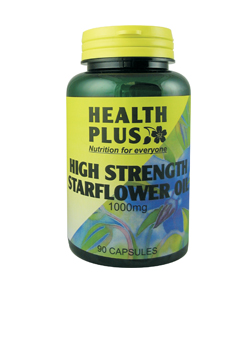 Health Plus Starflower Oil 1000mg
Starflower Oil, also known as Borage Oil, provides Gamma Linoleic Acid (GLA), an omega 6 fatty acid that plays an important role in prostaglandin production, which is vital to the proper health of many body systems, including the immune system.
---
Starflower oil (Borage Oil) 1000mg (with 22% GLA content) which provides (omega 6) GLA 220mg, Gelatin, Glycerin.
---
---
---
---
---
---
---
---
---
---