Health Plus
Health Plus supplies a wide range of excellent value, British-made, high quality nutritional supplements and health related products. As well as the traditional pots of single nutrient products, there also have multi-formulas aimed at providing the necessary nutrients for specific nutritional needs of your lifestyle and health profile.
---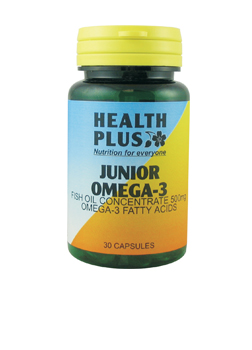 Health Plus Junior Omega 3
Contains omega-3 fatty acids which help maintain proper mental function, Suitable for ages 5+.
---
Marine Lipid Concentrate 500mg, which provides (omega-3): Eicosapentaenoic Acid (EPA) 90mg, Docasahexaenoic (DHA) 60mg, Gelatin, Glycerin.
---
---
---
---
---
---
---
---
---
---
---
---
---
---
---
---
---
---
---
---