Health Plus
Health Plus supplies a wide range of excellent value, British-made, high quality nutritional supplements and health related products. As well as the traditional pots of single nutrient products, there also have multi-formulas aimed at providing the necessary nutrients for specific nutritional needs of your lifestyle and health profile.
---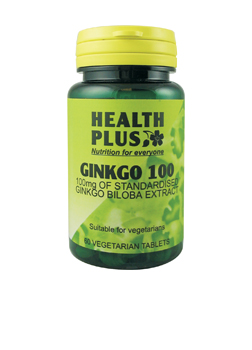 Health Plus Ginko 100
Gingko has the ability to help in the maintenance of a healthy circulation. 100mg of our standardised extract is equivalent to 5000mg of Ginkgo Biloba.
---
Ginkgo Biloba Standardised 50:1 Extract 100mg  which provides: 24% Ginkgo Flavone Glycosides 24mg, 6% Ginkgo Terpene Lactones 6mg, 3.2% Bilobalides, 3.2mg
---
---
---
---
---
---
---
---
---
---