Health Plus
Health Plus supplies a wide range of excellent value, British-made, high quality nutritional supplements and health related products. As well as the traditional pots of single nutrient products, there also have multi-formulas aimed at providing the necessary nutrients for specific nutritional needs of your lifestyle and health profile.
---
---
---
---
---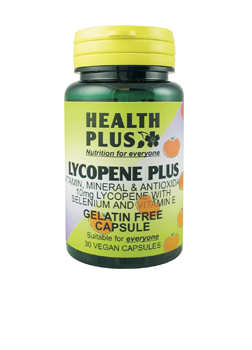 Health Plus Lycopene Plus 10mg
Three highly acclaimed antioxidants combined to create one of the best antioxidant products available. Tomato Oleoresin to supply lycopene, combined with vitamin E and Selenium. May help to maintain a healthy prostate.
---
Vitamin E (200iu) (D-Alpha Tocopheryl Preparation GMO Free) 134mg TE, Tomato Oleoresin (6% Lycopene) 167mg, which provides Lycopene 10mg, Vcap (vegetable Cellulose Capsule), Soya Bean Lecithin (GMO Free), Selenium (Yeast) 100mcg
---
---
---
---
---
---