Green Origins
Green Origins was founded in 2008 to source high quality superfoods from environmentally conscious and ethical suppliers. We have been sourcing superfoods directly from producers for over 7 years and have an excellent network of suppliers in place, allowing us to offer consistency of product supply and product quality, competitive pricing and a real understanding of the provenance of the products.
---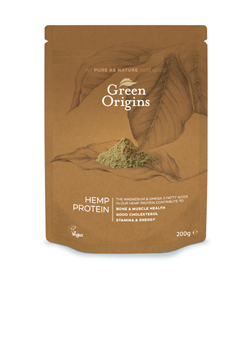 Green Origins Hemp Protein 200g
Hemp protein is high in Magnesium, which contributes to normal brain function. It is also a source of Calcium, which helps improve cardiovascular health.
---
European raw hemp protein powder
---
Energy1453kJ / 347kcal
Total fat8.2g

of which saturates

1g
Carbohydrate8.1g

of which sugars

4g
Protein7g
Salt0g
---
Fibre 23.9g, Calcium 196mg, Magnesium 1060mg
---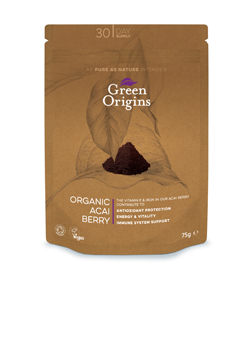 Green Origins Organic Acai Berry Powder 75g
Acai is a source of Magnesium, which contributes to the maintenance of strong bones and teeth and also supports mental health.
---
organic raw freeze dried acai berry powder from south america
---
Energy1506kJ / 368kcal
Total fat22g

of which saturates

5.8g
Carbohydrate4.2g

of which sugars

0.3g
Protein7.1g
Salt0g
---
Fibre 62.5g, Vitamin E 30.3mg, Magnesium 74.8mg, Iron 10mg
---