Ecover
Powered by plant-based ingredients Ecover's range of cleaning products work effectively while respecting the health and wellbeing of both you and the planet. We use effective naturally derived, biodegradable ingredients. Plant-based ingredients such as aloe vera, coconut oil and sugar pack a real punch. Renewable ingredients like plants are better all round than depleting dirty petroleum. Our products are formulated for the lowest possible toxicity and the fastest biodegradability. Our bottles are 75% Plantplastic® and 25% postconsumer recycled plastic. 100% renewable, reusable and recyclable. We believe animals are our best friends, not test subjects. Ever since we began, Ecover has never tested on animals. All our products are Leaping Bunny certified assuring you that no animal testing is done in any phase of production either by us or our suppliers.
---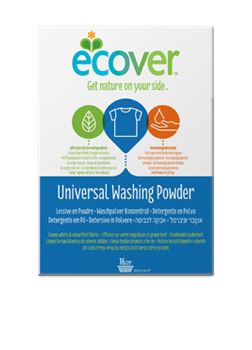 Ecover Universal Washing Powder 1.2kg
Brilliant cleaning power without optical brighteners, Protects the fibers, Delicate, plant-based lavender scent, Cruelty-free and vegan.
---
Sodium sulfate, zeolite, sodium carbonate peroxide, sodium carbonate, sodium C12-18 alkyl sulfate, laureth-3 laureth-9, sodium polyaspartate, TAED, sodium disilicate, polyitaconate, aqua, sodium oleate, sodium carboxymethyl starch, parfum*, limonene, cellulose gum, linalool, subtilisin, lipase, amylase, cellulase, mannanase. *derived from natural ingredients.
---
---
---
---
---
---
---