Doves Farm
Doves Farm are organic flour specialists and a family owned enterprise with over 60 staff, drawing the majority of these and many raw materials from the local Wessex area. We are dedicated to upholding organic, ethical and Fairtrade agricultural systems, nurturing partnerships with suppliers and customers and supporting local community projects. We produce a wide range of specialist and gourmet flours that are milled from a range of grains and seeds, with a variety of tastes and textures, Doves Farm flours have a unique character.
---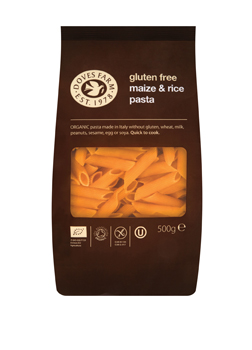 Doves Farm Gluten Free Maize & Rice Penne 500g
This gluten free and organic penne is made in Italy from a blend of maize and rice. There's no need to change your cooking and eating habits with this pasta and guests may not even realise they're eating Gluten Free Pasta.
---
Maize Flour 70%*, Rice Flour 30%* (*Denotes organically grown)
---
Energy1444kJ / 347kcal
Total fat0.9g

of which saturates

Traceg
Carbohydrate76g

of which sugars

0.4g
Protein7g
SaltTraceg
---
---
---
---
---
---
---
---
---
---