Clearspring
The Clearspring goal is to get organic food back on the dining table, so that you can enjoy the same quality of foods as your grandparents did. By developing the demand for organic foods and encouraging the cultivation of organic crops by farmers today, we can ensure that your grandchildren, too, can enjoy the great taste of good food.​
---
---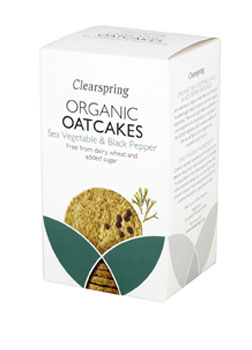 Clearspring Organic Oatcakes Sea Vegetables & Black Pepper 250g
This delicious twist on a traditional oatcake combines the spicy, slightly salty flavour of dulse sea vegetable with warming hints of black pepper and garlic. Enjoy on its own for its distinctive taste as a snack or with your favourite dip for a light lunch.
---
Oatmeal* (75%), cold pressed extra virgin olive oil*(13%), garlic* (10%), dulse sea vegetable* (2%), raising agent: sodium bicarboante, cracked black pepper* (0.5%), sea salt. *Organically grown.
---
Energy1850kJ / 441kcal
Total fat17.5g

of which saturates

2.5g
Carbohydrate65.7g

of which sugars

0.8g
Protein9g
Salt1.635g
---
---
---
---